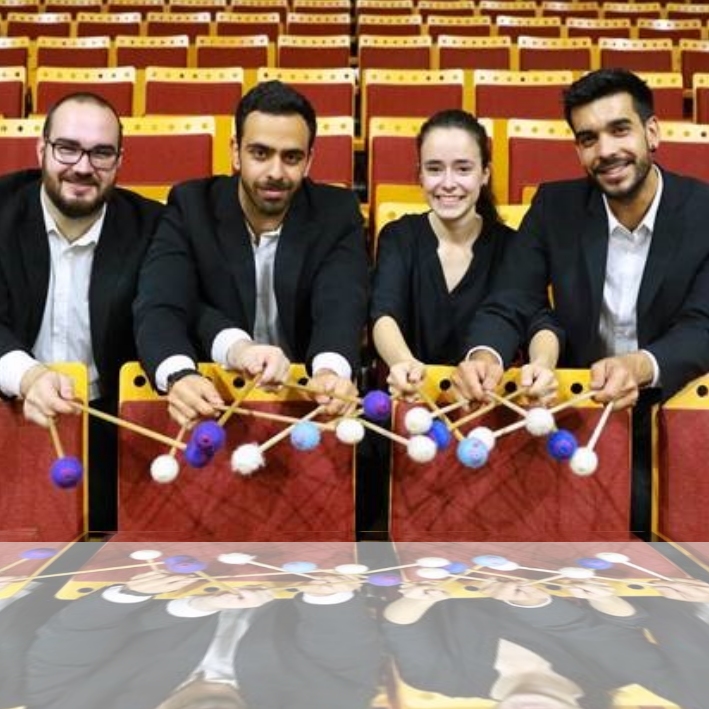 Vulkaan Percussion Quartet is nowadays composed by Víctor Hernández Arencibia, Antonio Rodríguez Acosta, Marta Rosa Díaz and Vicent Benavent Esteve. They are focused on promoting the wonderful repertoire for percussion quartet created in the las century and the creation of new pieces for this composition.
The quartet was created inside the percussion classrooms of the Superior Conservatory of Music from Canary Islands, in Tenerife, with his professor and coach Paco Díaz. This happened because of their participation in "María Orán Chamber Music Competition", where they got their first "first prize" in April 2018. After their debut as a quartet, they have kept winning important contests like the "VI International Percussion Chamber Music Contest" in Percute Catarroja 2018 and the last great achievement, first prize on "Percussive Art Society Web Contest 2019" organized by Italy PAS. They have made two little tours around Spain and participated in different contemporary music festivals in Canary Islands like FMUC or COSIMTE the last year. In addition, they have premiered two music pieces: "A través del espejo" by Francisco Hernández and "Después Del Mar" by Cecilia Díaz.
It has been two really intense and successful years where they have combined chamber music studies with individual ones. As a result, a wonderful professional path has been opened. A path that would be much more difficult without the great Southern Percussion family, where Vulkaan Percussion Quartet is an official partner now.